LOUISVILLE, Ky. (WDRB) — A Louisville boy with Down syndrome who became the victim of social media bullying got some major backup this week.
Bradley Sego, 18, loves dressing up like a police officer around the house. He is still in high school but dreams of being a police officer.
"He's only Officer Bradley when he's in uniform," said Cassandra Sego, Bradley's mother. "So from the hours of when he either gets home from school to bedtime or during the weekends, he is usually Officer Bradley. He's tasing, he's arresting Wreck-It-Ralph and he is ecstatic."
Bradley recently posted pictures of himself in uniform on TikTok, but social media can get ugly. And that's exactly what happened. From name calling to mocking, some of the comments were downright mean.
"I had to literally like turn my phone off and cry for a little bit because some of it was really bad," Sego said. Like, 'Give him a real gun. Let him go outside and play with a real gun' They called him a mongoloid."
The negative comments not only got the attention of Bradley's mom but a national organization called Humanizing the Badge.
"Attacking somebody who didn't really understand the nature of the aggression that was done, that really upset us," said Ashley Cooper, social media coordinator for Humanizing the Badge.
That prompted the nonprofit's leadership team to take action.
"So our response is to take Bradley, lift him up and show him, man, it's not everybody that wants to talk to you like that," Cooper said. "We love you and we welcome you and you dress like us anytime you want."
The organization then reached out to the Louisville Metro Police Department and planned the surprise of a lifetime for Bradley and his family. So on Thursday, Bradley got some back up and a lot of love from his heroes. More than 100 Louisville police officers, firefighters and EMTs from across Kentuckiana reported to Churchill Downs for a surprise.
The guest of honor and family members arrived a little before noon.
"We thought we need to really do something special for Bradley," said Officer Beth Ruoff, a spokeswoman for LMPD. "So we decided to have a Bradley Day and do an honorary swearing in for Bradley to become an honorary LMPD officer."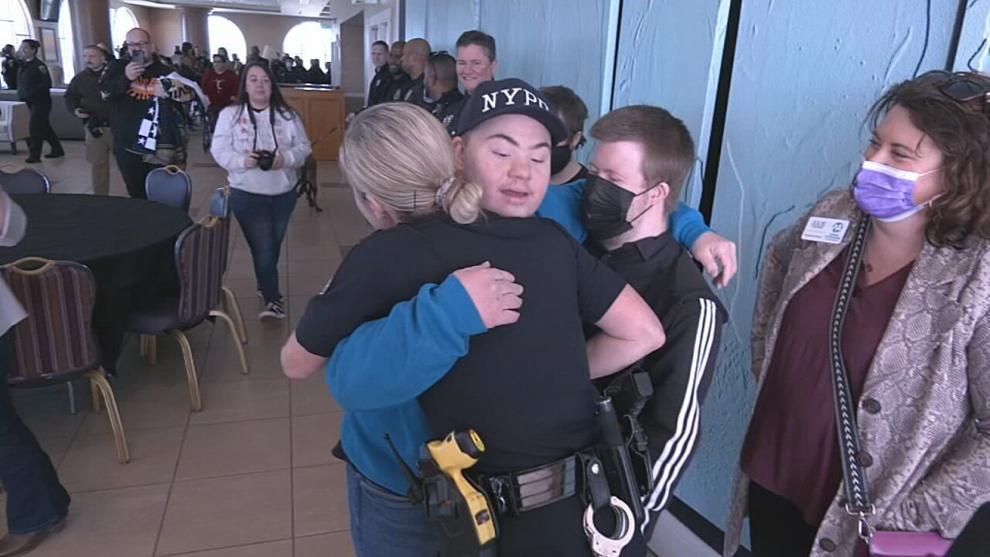 "We thought that we were going to be picked up in the Hummer, brought to a pizza party, and there was going to be music and pizza. That's it," Sego said. "We had no idea there was going to be anybody else here besides just a few officers."
After meeting his heroes, Bradley's dream came true and he was sworn in by LMPD Chief Erika Shields.
"Congratulations, Bradley, you are an honorary LMPD officer," Shields said.
Sego admitted it might take more than a few days before he comes down off of this high. Bradley finished the day on the dance floor with some of his fellow officers.
Copyright 2022 WDRB Media. All Rights Reserved.